PACKING & LUGGAGE ADVICE
An Experienced Traveler's Guide to Packing

My first piece of advice is to limit yourself to what you can carry comfortably. For most people that means two bags. Put most of what you're taking in the larger of the two and put a change of clothes, underwear, camera, cell phone, laptop, passport, tickets, reading material, CD player, etc. in a smaller one to keep with you at all times. Don't take scissors, nail file, clippers, shampoo, toothpaste, etc. with you in your carry-on. They'll be confiscated. By following this plan, even if your luggage is lost, you're OK. And when I say keep it with you, I mean never out of your hands, or out of your sight. When you're at the ticket counter talking to the agent, put it between you feet and make sure you can feel that it's there. Be paranoid.


Plan Your Packing
This is second nature to the seasoned traveler. Imagine you're waking up in the morning at your destination. Write down everything you'll need to get ready to take on the world. Imagine you're walking into the hotel bathroom and reaching for your toothbrush. Write it down. Remember, if you don't pack it, you'll have to buy it. That includes everything from tooth brush to top coat if its cold where you're going.

Four Simple Steps:
1. Make a list, in fact make two, one for each of your two bags.

2. Lay everything our on your bed. Put loose things, especially toiletries, in waterproof containers. If you have a toiletry kit, put it in a large plastic zip bag as an extra precaution. You don't want anything leaking on your clothes.

3. Pack your shirts in the plastic bags from the laundry. They will slide a bit, but they won't get wrinkled.

4. Don't cram. Your bags should be full enough so your things stay put, but you shouldn't be putting pressure on zippers, locks, etc.


Tips for Preparing Your Clothes to Travel
Before you start, check the weather forecast for your destination to be sure you are taking the right clothes. Once you know what you are going to be packing, here are some common sense tips.

1. Shirts should be folded as they were when you bought them. If they are in the original plastic wrap, so much the better. If not, we recommend having the laundry do it if you're getting them done for your trip. Order them boxed, not on hangers. If you're doing it button them first and take the time to do it right.

2. Pants should be folded along the crease.

3. Sports coats should be turn inside out. Put your hands inside the shoulder holes and press your palms together. They flip one side of the jacket inside out so that the shoulders are laying one inside the other. Make sure the sleeves are laying as flat as possible, one on top of the other to avoid wrinkles. At this point you can leave the jacket flat or fold it in half like a shirt. It will travel well and shake out without wrinkles.

4. Use underwear, socks and T-shirts as fillers to prevent sliding. You can roll the T-shirts, socks and underwear. Put socks and other small items inside your shoes. Put shoes in shoe or plastic bags.


Packing Your Suitcase
Remember, not too full. You want things to stay put so they won't wrinkle. If you're going to be buying things to take home, I recommend packing an empty, unstructured, expandable bag that you can carry with you on the return trip. To fill gaps use crinkled tissue paper or plastic trash bags. They weighs nothing and will keep things in place. And you can use the trash bags for laundry or wet things.



Tips & Techniques
1. Pack in layers. At the bottom lay long things like trousers or dresses. Put the top part in the suitcase and let the ends hang out over one side. Put long things like belts (not ties, they'll wrinkle badly) along the edge of the suitcase.

2.Next layer. Put in folded items that can wrinkle such as pajamas, T-shirts, underwear, sweats, swim suits, etc. On top of that put your toiletry kit and other things in bags.

3. Next layer. Put in your neatly folded shirts (in plastic laundry bags) sweaters, shorts, jackets, etc. Then fold the legs of your trousers or end of your dresses over everything in the case. The contents will help keep them unwrinkled. 4. Finishing touches. Put in shoes and other rigid bulky items along the edge of the case, filling in gaps if there are any.


Packing A Duffel or Unstructured Bag
The best way to pack a duffle is to lay your flat items in the center of the bag and roll them around bagged items. Put bulky or hard items like shoes at the ends of the main compartment. Pack kits in the pockets on the outside of the bag.


Are You A Carry-on Candidate?
Don't want to wait for your luggage at the carousel? Want to get out of the airport fast! You have two choices. Carry your luggage on the plane or buy clothes at your destination. If you are going to carry your luggage, you must limit yourself to two bags that can fit in the overhead compartment or under your seat. (no larger than 7 inches x 14 inches x 21 inches in most cases). We recommend that you check with your airline before you get to the airport.

To be a Carry-on Candidate you should think less is more. Be a minimalist! You should always think how to do with less. Don't take it with you, buy it at your destination. It's a lifestyle and it takes commitment.

Make sure your wardrobe is mix and match. Limit your colors. Stick to the classic blue blazer that can be dressed up or down. And plan on washing your socks and underwear on the road and getting your shirts done at the hotel.

Buy samples and the travel-sized toothpaste, shampoo, etc. Buy a great toiletry kits with everything you need in a small container, the 12 tools in one knife, etc. Again, post 9/11 anything sharp or that can be used as a weapon will be confiscated. Buy what you need at your destination.



Guide to Buying Luggage
Having a hard time deciding which type of luggage is right for you with all of the sizes, colors and options? Take our advice.

1. Make sure whatever you buy meets airline specifications for carry-on or can take the punishment the luggage handlers dish out. Even if you aren't planning to fly, this makes sense. Most airlines limit carry-on bags to 7 x 14 x 21, but this is by no means universal. Check with the airline you're flying with before deciding whether to buy carry-on luggage. Depending on the length of trip and your clothing needs, your only option may be to check your luggage at the gate.

2. Buy what suits your style of travel. It's common sense really. Adventure travel, kids, family vacation...duffles, backpacks and soft-side luggage make sense. For business travel choose a garment bag, rolling Pullman or classic hard-side. Always consider size, weight, width (airplane aisles) and length of trip.

3. Buy quality! A good general rule for everything in life and travel. Consider material, brand and...take a long hard look at the construction. Buy the lightest, best made, most durable luggage you can afford.

Check the zippers, clasps and closures. Do they look and feel rugged and durable? You want heavy duty double stitched zippers with pulls that are easy to hold and use.
Are the handles comfortable? You're going to be using them?
Are the shoulder straps padded and wide enough? Test them. Do they allow the bag to hang at your side comfortably? Are they removable?
Check a garment bag's hanger mechanism. Is it durable? Can it be locked away when not in use?
Check the material. Will it rip easily? Is it waterproof or at least weatherproof?
Hardware. Sturdy? Quality? Well designed? Is it protected, flush, exposed?
Wheels. We highly recommend inline skate-type wheels. They last and can be replaced if need be.
Structure. Is the frame well constructed. Look at the edges and corners.
Locks. Combination or key? Are they exposed? Do they work? Will they break?
Carry-on. Look for expandable, durable and the right size (airline spec). It should have pockets, pockets and more pockets.
Buying Luggage Online
If you know what you want, buying online can be a convenience. It's delivered to your door. We recommend the following online outlets for luggage and travel accessories, but make sure to order well in advance allowing for delivery and return and exchange if necessary.
Luggage Online





Types of Luggage
Pullmans: Named after George Pullman, the man who improved and popularized the railway sleeping car in the 1860's, todays Pullman cases are the most popular type of luggage.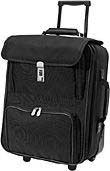 The Rolling Pullman They came in a range of sizes and materials. The familiar upright style is a favorite of the experienced traveler. Make sure the wheels work and that it feels easy to pull and handle. Also check to see that a lot of packing space is not taken by a retractable handle.



The Classic "Pullman" Case is also called hard-side luggage and is probably made of space-age material that offers maximum protection for everything inside. The best of these can withstand a virtual torture test. They come in all sizes and shapes, with all types of closures. We recommend the ones with easy grip handles and wheels. Prices range from $75 to $200+.



Luggage Cart Typically under $50, these carts carry up to 125 lbs. of luggage and fold to fit easily in the overhead compartment or below your seat on the plane. Make sure the grip is comfortable and the wheels roll easily. They make it easier to deal with non-rolling luggage and are well worth the price.



Garment Bags They're great for the one or two day business trip because they are designed to carry suits and provide handy pockets for smaller essentials. They also unfold and can be hung in a closet on the plane if there's room. These bags are available with handles and wheels and are extremely popular. Pick one that will not be damaged if it has to be checked. Prices typically range from $75 to well over $200 depending on the bells and whistles.

Shoulder Bag are great for people who want to take it with them at all times. Make sure they are comfortable when fully packed or you could have a sore neck and shoulder upon arrival.



Duffles are great for traveler who don't worry about wrinkles. They are totally unstructured and make a great second bag. They come in all colors, sizes and materials and are extremely versatile. Typical prices range from under $60 to over $200 depending on size and fabric.



Backpacks Some are serious luggage alternatives and great for adventure travel with built-in structural frames that make carrying weight a lot more comfortable. Others are good carry-on candidates and great for walking about. Some have wheels and handles and do double duty as versions of the standard pullmans. Prices range from under $25 to $199 for the wheeled versions.